I've been sick at home this week with some sort of head cold that seems to be morphing into some sort of plague. Have you all come down with this one yet? Just when you think you're getting better, it shifts into fifth-gear and says, "Nuh-uh, we're just getting started!" I am officially calling this year's cold The Evil One. It makes me want to take my head off…like Calvin: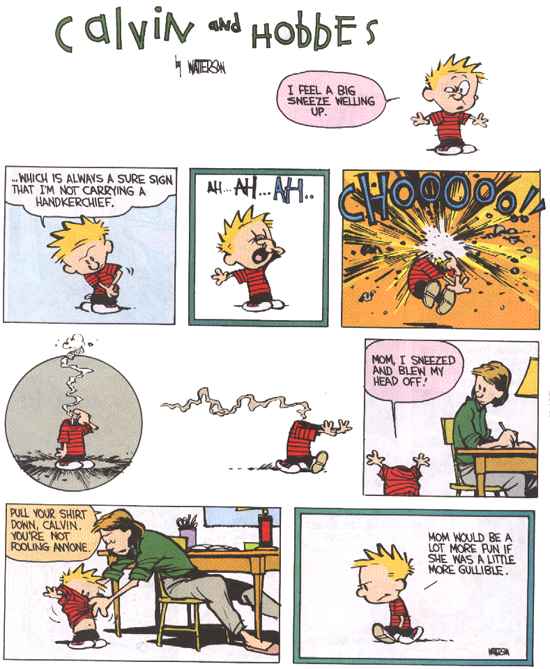 Yesterday, I sat around the house all day, unable to go into work. I was hoping to spend some of that down time working on my manuscript, but every time I looked at the words, they got blurry and my head felt like it was going to explode.
So instead, I spent my day watching
The E! True Hollywood Story
. (But I did take a break to watch an infomercial for Hip Hop Abs!) I am so addicted to
T.H.S.
, and I suddenly realized why. There is no reason on earth for me to suddenly love Jennifer Lopez, but once I heard her back story, I couldn't help but love her! (Even though the whole Bennifer thing was super annoying.) But knowing her struggles growing up and how she persevered and stuck with her dreams, I couldn't help but get inspired!
And that reminded me why back story is so important in my own manuscript. So instead of writing, I spent some time thinking about my character. Why do I love her? Why should the reader love her? What in her life motivates her to act the way she does? And most importantly, when she accomplishes her goal, will she be covered head-to-toe in bling!?
Even though I didn't get any writing done, I got some
thinking
done…which is quite an accomplishment under the influence of TheraFlu!
- Robin
Mermaid Sightings: If you happen to be in San Luis Obispo this Saturday, swing by Barnes & Noble at 6pm. Jay will be discussing and signing copies of Thirteen Reasons Why. Need two more reasons to stop by? Okay. Eve and I will be there, too!